4ª No Strings*12 Mar
Próxima festa é já este sábado. Os visados nesta extravaganza são estes senhores: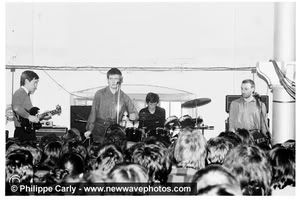 Alinhamento da passada festa:
*25th Hour O.S.T. - Terence Blanchard "25th Hour Open Title"
*Billie Holiday "Day In - Day Out"
*Julie Delpy "My Dear Friend"
*Air "Les Professionnels"
*Aspects of Physics "Neutrino"
*Helios "Velious"
*Epic 45 "I'm Getting Too Young For This"
*65 Days of Static "Install A Break In The Heart That Clucks Time In Arabic"
*Morphine "Buena"
*The Bellrays "Blue Cirque"
*The (International) Noise Conspiracy "Baby Doll"
*Make Up "Live In The Rhythm Hive"
*The Undertones "Teenage Kicks"
*Mão Morta "1º de Novembro"
*Metallica "Metal Militia" -> "For Whom The Bell Tolls"
*Led Zeppelin Peel Sessions "Communication Breakdown"
*Jethro Tull "Locomotive Breath"
*Baby Huey "Listen To Me"
*Bobby Byrd "Sayin' It And Doin' It Are Two Different Things"
*Clement "Coxsone" Dodd "Bionic Dub"
*Kelis "Trick Me"
*Missy Elliott "One Minute Man"
*LCD Soundsystem "Daft Punk Is Playing At My House"
*Lost Sounds "There's Nothing"
*The Faint "Disappear"
*American Beauty O.S.T. Interlude
*Britney Spears vs The Skatalites "One More Spy"
*Carlos Paredes "Viva - Sam The Kid Remix"
*Moloko "The Time Is Now - Acappela" -> "The Time Is Now"
*Sylk 130 "I Can't Wait"
*South Park Interlude
*Faith No More "The Perfect Crime"
*Incubus "A Certain Shade Of Green"
*Rage Against The Machine Mini Extravaganza "Killing In The Name" -> "Bulls On Parade" -> "Sleep Now In The Fire" -> "Bulls On Parade"
*Boysetsfire "Curtain Call"
*Bad Religion "Anesthesia"
*Censurados "" (não me lembro do nome)
*New York Dolls "Personality Crisis"
*The Clash "Rock The Casbah"
*Sonic Youth "Silver Rocket"
*Bloc Party "She's Hearing Voices"
*Interpol "Say Hello To Angels"
*Dj Shadow Extravaganza - excertos de "What Does Your Soul Look Like (Part 2)" -> "Six Days (Edit)" -> "In/Flux" -> "...Meets His Maker" -> "Lost & Found" (Live) -> "What Does Your Soul Look Like (Part 3)" -> "Reconstruction (Medley) [Live] -> "You Can't Go Home Again" -> "The Number Song" (Live) -> "Giving Up The Ghost" -> "Mashin' On The Motorway" (Live) -> "Fixed Income" -> "What Does Your Soul Look Like (Part 2)" [Live] -> "Right Thing/Gdmfsob" -> "High Noon" -> "Drums Of Death" (Live) -> "Blood On The Motorway" -> "(Letter From Home)"
*Hipnótica "Japan Underground"
*The Stone Roses "I Wanna Be Adored"
*Alice In Chains "No Excuses"
*Beck "Deadweight"
*The Shins "Caring Is Creepy"
*Stereolab "Les Yper-Sound"
*Sublime "What I Got"
*Wray Gunn "Soul City"
*X-Wife "Outside"
*Zen Guerrilla "Barbed Wire"
*LCD Soundsystem "Great Release"
*Fugazi "Ex-Spectator"
*Head Automatica "Disco Hades II"
*Kill Bill Vol. I O.S.T. Interlude "Super 16"
*Josh Rouse "Nothing Gives Me Pleasure"
*dEUS "Serpentine"
*Blur "Caravan"
*The Eternal Sunshine Of The Spotless Mind O.S.T. - Jon Brion "Theme"
Hell yeah!!